Premium Quality Envelopes
Envelopes are a crucial component of your wedding invitation suite.
Wedding invitations can be sent in a single envelope, or in double envelopes, also known as inner and outer envelopes.
Premium Envelopes come in the color of your choice, with the finest 100# paper quality.

SQUARE FLAP
The Square Flap Envelope is perfect for anyClassic Invitation Styles.
Gummed for sealing.

EURO FLAP
The European Envelope has a distinct, deep, pointed flap as opposed to the Square Flap.
Gummed for sealing.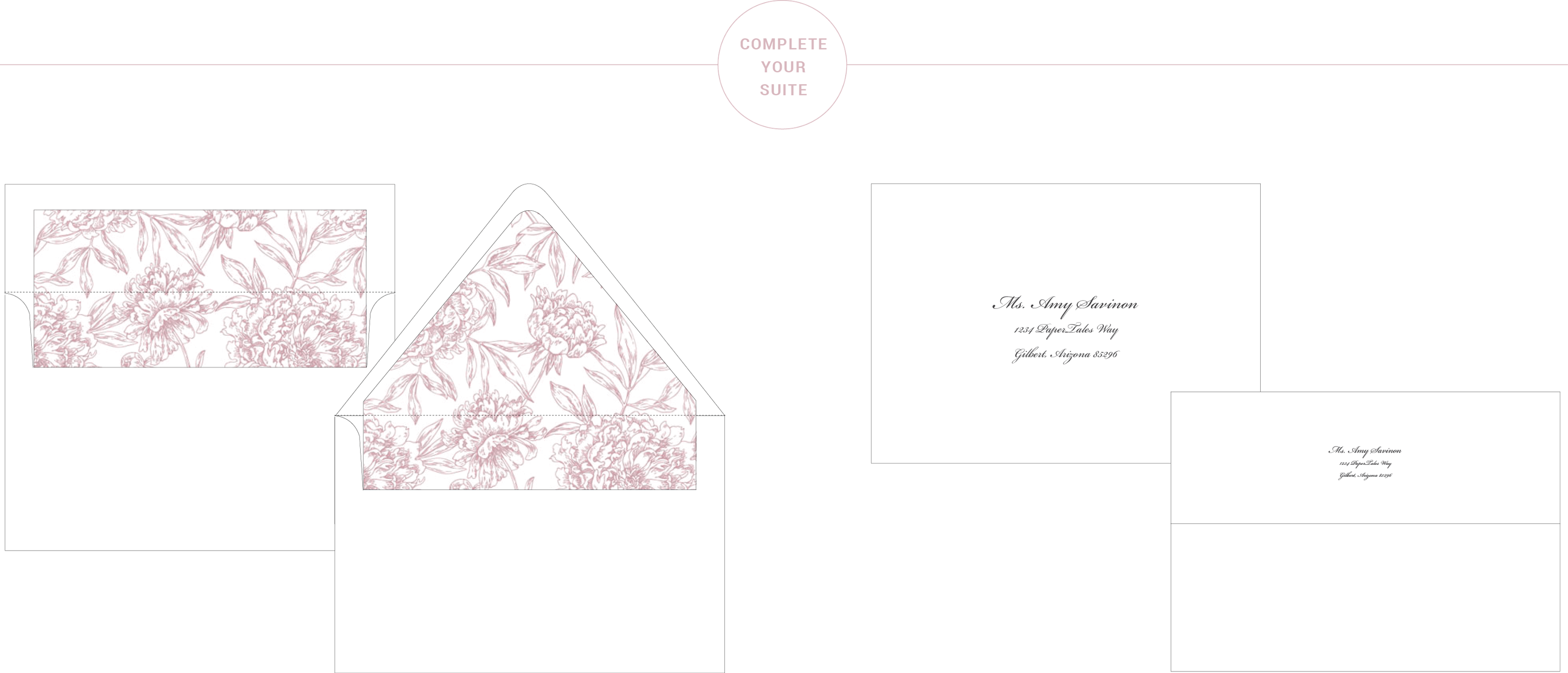 ENVELOPE LINERS
Whether it's a striking pattern that's color-coordinated with the wedding invitation suite or even a texture, modern brides take advantage of the additional space that wedding liners provide.
They can quickly take a wedding invitation suite to the next level!
ENVELOPE ADDRESSING SERVICES
Complete your envelopes with return and guest address printing.
Return addressing is done on the front or back flap of your invitation envelopes (your choice) in black inkusing fonts that match your invitation suite.
Size options include A7 (5 1/4 x 7 1/4), A6 (4 3/4 x 6 1/2), A2 (4 3/8 x 5 3/4), A9 (5 3/4 x 8 3/4), Square (6 1/2 x 6 1/2), RSVP 3 5/8 x 5 1/8, and No.10 (4 1/8 x 9 1/2).
Add-On Items Includes: Solid Color Envelope Liners, Patterned Envelope Liners, Custom Printed Envelope Liners (complete with mounting services), Laser Cut Envelopes, Outer Envelopes, Envelope Addressing Services.
♥ Check out the color options under the "PAPER COLOR CHART" Tab ♥
* When printing at home I highly suggest purchasing a few extra than what you think you'll need, to run a test print. Please note that not all printers can handle the heavy weight cardstock and unique finishes.
* Please note that Premium Envelopes are an ADD ON ITEM with your Printed Option purchase only.
Please contact me for details at amy@mypapertales.com